Tarmac laid around parked car in Hereford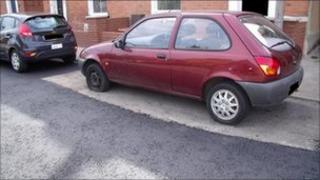 Contractors working for Herefordshire Council have laid tarmac around a car left at the side of the road.
The council said it sent out letters and put up signs in Park Street, Hereford, warning about the work.
Chris Howell, from the contractors Amey, said: "Sadly this leads to a repeat visit to the site, more disruption and additional cost."
The council will be resurfacing roads in Ross-on-Wye and Stretton Sugwas over the next few weeks.
It is appealing to local people to move their cars for the duration of the work.
Mr Howell said: "Generally, residents do make alternative parking arrangements and it is only a small minority that hinder our progress by leaving their vehicles parked where we need to work."