Teme Bridge closure may trigger rate rebates in Tenbury Wells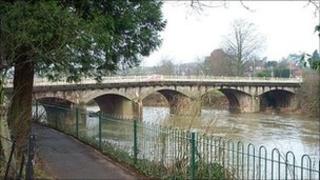 Traders in a Worcestershire town have been told they may be eligible for business rate reductions if the closure of a river bridge hits their sales.
The Teme Bridge in Tenbury Wells is to be closed in 2012 for maintenance.
A spokesman for the Valuation Office Agency (VOA) said: "The VOA would need to see evidence of sales levels for the period the bridge is closed against the same period in previous years."
The VOA said any reduction would apply to all the properties affected.
Sarah Thompson, the chair of Tenbury Wells Chamber of Trade, said: "At least there's a little bit of good news that if your sales are down that you'll be able to claim a little bit back."
Conservative-controlled Malvern Hills District Council made the initial approach to the VOA on behalf of businesses in Tenbury Wells.
Councillor Phil Grove, leader of the council, said: "We are fully aware of the concerns traders have over the closure of the bridge and we will do our utmost to ensure that local businesses receive the support they need to keep trading and that they are aware they can apply for a temporary rates reduction."
The council is encouraging local businesses to ensure that they have sales records for the same period from previous years available.
Teme Bridge is a designated historic monument and parts of it date back to medieval times.
In 1908 there was a major refurbishment and widening of the bridge, but Worcestershire County Council said the structure had since deteriorated.
The next nearest bridges across the River Teme are at Little Hereford, three miles upstream and at Stanford Bridge, nine miles downstream.
There will be a temporary footbridge, wide enough for prams and mobility scooters, across the river while the work is carried out.