Kidderminster fire: 'Dangerous' buildings cordoned off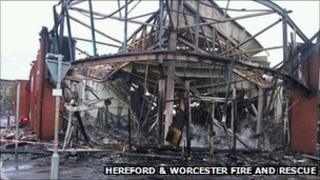 Part of Kidderminster town centre remains cordoned off while investigations are carried out into a fire that destroyed two shops.
Seventy firefighters tackled the blaze that broke out at Levine's furniture store on Sunday afternoon and spread to the British Heart Foundation store in Market Street.
The fire service said the operation was complicated by gas mains at the site rupturing.
No one was injured during the incident.
Crews worked throughout the afternoon, bringing the blaze under control by around 18:00 BST.
They stopped the fire spreading to a nearby frozen food store, which was damaged but not destroyed.
Area Commander George Sherry said: "The intense heat of the fire coupled with the unusually hot weather posed a real risk of dehydration to all those involved in tackling the blaze."
Fire crews and other agencies remained at the scene on Monday to investigate the cause of the fire.