Kidderminster fire: Charity shop loses stock worth £50k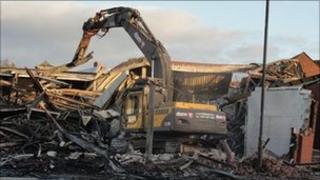 Demolition work has begun on the buildings gutted by a fire in the centre of Kidderminster on Sunday.
The fire in Market Street started at Levine's furniture and spread to the British Heart Foundation (BHF) store.
The charity said it had lost about £50,000 worth of stock in the fire.
Ron Humphries, BHF area manager, said: "The main thing at the moment is that we continue to collect stock so that if the store is re-sited or rebuilt here we'll have that stock here."
The Kidderminster charity store sold furniture and electrical items.
Mr Humphries said that any customers who had items in the store when the fire broke out can get a refund provided they have a receipt.
Gas main ruptured
Streets around the fire site will be reopened once the demolition work is complete and the site is fenced in.
Seventy firefighters tackled the blaze which broke out at 13:00 BST on Sunday.
They stopped the fire spreading to a nearby frozen food store, which was damaged but not destroyed.
The fire service said the operation was complicated by gas mains at the site rupturing.
No-one was injured during the incident.
The cause of the fire is still being investigated.