Bilston fire canal contamination kills fish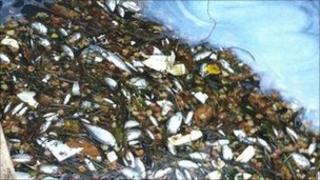 About 5,000 fish have died as a result of water contamination after a fire in Wolverhampton.
The fire last month hit five separate firms in Millfields Road in Bilston.
The Environment Agency (EA) and British Waterways have been working to remedy the problem in the nearby Birmingham canal and Wyrley and Essington canal.
Sarah Brudy from British Waterways said: "The chemicals aren't like oil, they're dissolved in the water so it's case of waiting for them to dissolve."
The leaked chemicals from the businesses at the industrial site have caused the oxygen levels in the water to drop rapidly which has suffocated the fish.
A spokesperson for the EA said: "We are currently aerating the water at a number of sites to contain the incident and prevent further fish mortality."
Ms Brudy said: "We are hoping it's going to get better but with chemicals in the water it's a case of monitoring and testing the water."