Fire at Hartlebury Castle damages county museum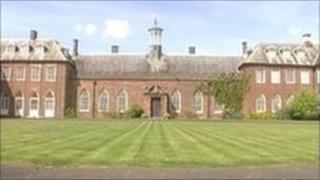 A fire has damaged outbuildings at Hartlebury Castle, the home of the Worcestershire County Museum.
The fire service said crews were called to a rapidly-developing blaze in a workshop area, at 23:46 BST on Wednesday.
Thirty firefighters tackled it using water from a nearby pool.
A spokesperson from the museum said it had been closed on Thursday and would remain closed on Friday, but hoped to reopen to the public on Saturday.
The fire has damaged 20th century outbuildings at the site which are used to house the museum's loans collection, which is said to have been badly damaged.
The Grade I-listed building houses the Hurd library as well as the county museum, and was the home of the Bishop of Worcester until 2007.
Group Commander Keith Chance, from Hereford and Worcester Fire and Rescue Service, said: "We were able to bring the blaze under control very quickly and prevent the spread of fire from the workshops to the heritage buildings nearby."
Ian Rutherford, General Manager at Hartlebury Castle and Museum, said: "We are working with the emergency services to understand the cause of the fire and the extent of the damage."