Worcester festival of healing returns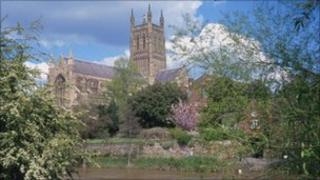 A festival is being held at Worcester Cathedral, with the aim of revitalising the ministry of healing.
The Bishop of Dudley, the Right Rev David Walker, and Dr Gareth Tuckwell from Burrswood Christian Hospital in Kent will host the event on Saturday.
Organiser Judy Dale said healing used to be a major part of Christian living.
Ms Dale said: "Christ was a great healer, the ministry uses the laying on of hands or anointing to help those who are asking for healing.
"It's about feeling whole in the mind, in the spirit, maybe in the body - it's up to god what that is."
The annual festival takes place on Saturday, starting at 10:00 BST with a workshop led by Dr Tuckwell who will also give the address at the afternoon Eucharist.