Gabrielle Grady's river plunge death was 'preventable'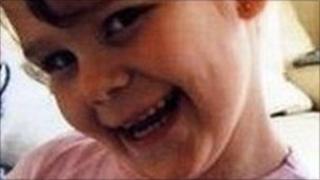 A report by Worcestershire Safeguarding Children Board has found opportunities were missed in the case of an Evesham father who murdered his daughter.
Christopher Grady murdered his daughter Gabrielle, five, and attempted to murder his son Ryan by driving into the River Avon in February 2010.
A Serious Case Review claimed Grady's actions could have been prevented if threats he made to kill his children had been taken seriously.
Grady was jailed for life in March.
The report found a number of agencies who had contact with the family before the incident failed to work together and focussed too heavily on the parent's problems.
It made a number of recommendations around agencies sharing information more closely.
The report said: "A threat to kill children by a parent must always be taken seriously and must be responded to by an urgent assessment of the circumstances by all agencies."
It said that from 2007 Grady and the children's mother had increasing problems in their relationship and mental health issues.
But despite both parents making regular visits to their GP, and Grady having "serious problems" with alcohol misuse, the GP practice did not consult other agencies or look at any impact the parent's problems might have on their children.
It said despite the police informing Children's Services about being called to domestic abuse incidents between the estranged couple, Children's Services did not visit the family and instead sent five standard letters.
The report states: "The picture emerges of (the children) as children whose needs were not assessed at different points in time when their welfare should have been promoted as 'vulnerable children in need of services and of safeguarding'."
It said Grady's threats to kill the children and himself were reported by the children's mother in November 2009 to the police who consulted with Children's Services.
The report concluded: "There were a number of missed opportunities for the agencies to share information and work together to assess the needs of the children and promote their welfare through consultation, referral and initial assessments.
"If the agencies had shared information (at five key points) and had undertaken an assessment of the father's state of mind and the risk he posed to the children, it is likely that the event leading to the death of (Gabrielle) and the near death of (Ryan) could have been prevented."
But Hilary Thompson, the independent chair of the Worcestershire Safeguarding Children Board, said: "It is possible that the events would have happened whatever intervention had been made at the time if the father was in a state of mind where he was determined and committed to the course of action."
She said: "This was a devastating event for the family including for a surviving child.
"It is important that we learn from this case in order to better equip professionals to intervene and protect children where that is possible."