Worcester Bosch Group training centre opens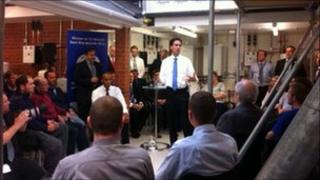 A Worcestershire company has opened a new £1.5m training centre in the hope of overcoming a "skills crisis" in the central heating industry.
Worcester Bosch Group, which makes central heating systems, plans to train more than 17,000 people in 2012.
These will include their own employees and people who install their products.
Chief Executive Richard Soper said: "(The skills crisis) can only be solved by encouraging young people to get the necessary training and qualifications."
The company offers a four year apprenticeship scheme.
The new training centre was opened by Labour leader Ed Miliband, who said more must be done for young people who did not want to go to university.
"We must support those far sighted companies who offer young people an alternative route into work," he said.
Worcester Bosch Group employs more than 2,000 people at its plants in Worcester and Clay Cross in Derbyshire.