Wildlife threatened by drying out of River Dore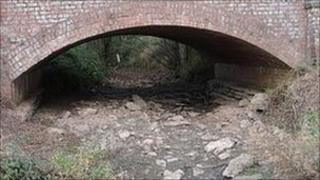 The drying out of a Herefordshire river is "the worst in living memory" for the area, the Environment Agency said.
More than 200 fish have had to be rescued after a two-mile section of the River Dore, at Peterchurch, dried up.
The EA said levels dropped because of a lack of rain this year, following dry winters in previous years.
"Upstream, water is flowing quite nicely but where the geology changes the actual ground water disappears," said Mark Bowers, of the EA.
"We've had a very dry spring and relatively dry summer - when you add that to the dry winters we had in 2009 and 2010, we got some very stressed ground waters and surface water in some areas.
"The river's running but under the surface which is why we had to go in and do a fish rescue - it's very bad, probably the worst in living memory in that area."
Porous rocks
The Monnow Rivers Association said the situation was a threat to rare mammals, including water vole, which relied on water to escape from predators.
Rob Denny from the association said: "Water is flowing in Dorstone, which is about two miles upstream, so it's just flowing down and disappearing somewhere."
The EA said there had only been 60% of expected normal rainfall so far this year.
In October there had only been 6% of the long-term average and as the water table in the area was naturally low and the rocks were porous the river had dried up.
Mr Denny said: "It's vital that we find out what the reason is so that we can start to work out what can be done should this become more frequent in the future."
Mr Bowers said the EA is in constant dialogue with water companies that extract from the river: "At the moment we don't believe the river has dried up as a result of abstraction but we are constantly checking that."
Welsh Water said it did not take water directly from the River Dore and that a report by independent consultants found its abstraction of groundwater had "no significant impact" on the river.