Worcestershire drain cover thefts "very worrying"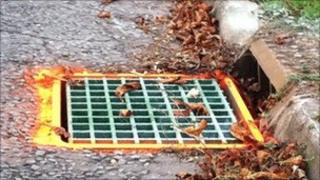 Scrap metal thieves have stolen 500 drain covers from roads in Worcestershire since April, costing the county council £100,000.
Streets in Redditch and the villages of Offenham and Harvington were among those targeted by thieves.
The council has said it is concerned for the safety of pedestrians and road users following the thefts.
On Tuesday it emerged that more than 40 manhole and drain covers had been taken in less than a week.
Councillor John Smith, from the Conservative-run council, said: "We've had a lot right across the county - it is very worrying.
"We're obviously concerned about the safety aspect."
The council is replacing the drain covers with plastic covers as a temporary measure before metal replacements are arranged.
Insp James Ashton from West Mercia Police said the crime was getting worse in both Worcestershire and Herefordshire.
He said: "Unfortunately thefts have increased over recent months due to an increase in metal prices.
"There's no question these covers have been targeted specifically, it's not opportunistic - they are focussing on gully covers."
He added that officers were making routine visits to scrap metal yards.