Malvern Hills survey uses video and satellite tracking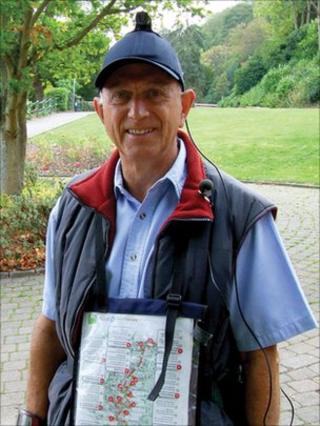 Video and GPS satellite tracking is being used in a survey to help decide how Malvern can be improved.
Volunteers walk a set route through the town centre, recording their thoughts onto a video recorder while their position is tracked by satellite.
The survey is being supervised by the University of Worcester for the Route to the Hills project group.
Manda Graham, the project manager, said: "It allows people to talk as they walk and tell us what strikes them."
Andy Stevenson, from the University of Worcester, said: "It's a much more immediate reaction and often quite visceral as well, depending on where they are and what they are commenting on."
The route taken by the volunteers runs from Great Malvern railway station, through Priory Park and the Rose Garden and finishes at St Anne's Well.
Ms Graham said: "Some of the groups we've worked with are young people, people with access issues, walkers and quite a few people from the Transition Malvern Hills group, who've given us feedback on the ecological and sustainability issues which perhaps previously we haven't thought about ourselves."
The Route to the Malvern Hills project group is looking at how the town and its public spaces can be improved for visitors and local people.
Ms Graham said: "One of big ideas of the project is that we strengthen the links between the hills and the town - often people visit the town but they don't visit the hills or they visit the hills but they don't visit the town."
The results of the survey will be used to help prepare a bid for money from the Heritage Lottery Fund.
The project has the backing of the district and town councils, the Malvern Civic Society, and the Malvern Hills Conservators, the charity that looks after the hills.