Sealine boat builders cuts jobs at Kidderminster office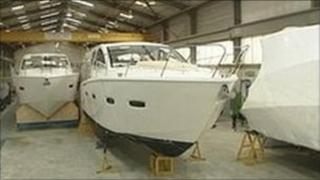 Almost 40 jobs are expected to be cut at a Worcestershire boat building company.
Sealine, based in Kidderminster, said the cuts would affect management, clerical and support staff, rather than factory workers.
The manufacturer was bought by the Oxford Investment Group on 31 August, and last month announced it was planning to expand its business.
New chief executive James Bursey said the company needed to be "streamlined".
"Whilst regrettable, we believe that these changes are essential to enable us to secure the long-term future of the business and to return Sealine to a profitable company," he said.
Luxury yachts
Mr Bursey said the plans followed a detailed review of Sealine's operating structure and that there would be a consultation period before any cuts were made.
The company, which employs more than 400 staff, said it hoped to minimise the number of compulsory redundancies.
Founded in 1972, Sealine is one of Europe's biggest manufacturers of production boats, including luxury yachts.
Last month it launched two new models at boat shows.