Hereford's fire-damaged shops 'to open in 2012'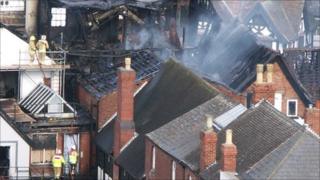 Shops destroyed by a huge fire in Hereford city centre last year are not expected to reopen until 2012.
More than 100 firefighters tackled the blaze in High Town last October and some buildings remain boarded up a year on.
Architect Chris Woodall, working on the redevelopment, said work on the three worst affected shops was unlikely to be finished until the summer.
Police have said an electrical fault was believed to have caused the fire.
A 15th Century pub suffered smoke and water damage. Owners Enterprise Inns said the damage was "extensive" and that the building was currently being repaired and refurbished.
Three four-storey buildings containing River Island, Card Factory, Ann Summers and a mobile phone shop were also badly damaged.
The fire was the biggest in the city for 30 years and it took fire crews about eight hours to bring under control.
Mr Woodhall said construction work on the three shops - River Island, Card Factory and Phones 4 U - would not be completed until at least the end of the summer and it would take another month or so for them to be fitted out.