Worcestershire chip shop owner's bid to scrap VAT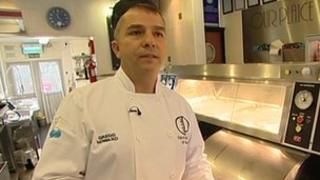 A chip shop owner campaigning for all hot takeaway food to be exempt from VAT has said he is prepared to take his fight to the European Court of Justice.
Gregg Howard, president of the National Federation of Fish Friers (NFFF), said all takeaways in the UK should be zero-rated when it comes to the tax.
Mr Howard, who has two shops in Worcestershire, wants the UK to follow Germany's lead where VAT is reduced.
"It should be the same all across Europe. We're all Europeans," he said.
The NFFF is using the case of German hot dog seller Manfred Bog who, back in 1985, got VAT on takeaways reduced to his country's lower rate which is 5%.
The UK's lower rate is 0% and Mr Howard is urging everyone who owns a chip shop to back the NFFF's campaign.
"If it's good enough for Hanover, it's good enough for Hagley," added Mr Howard, who is also upset that other shops in the UK avoid paying VAT.
"Supermarkets, butchers and bakers are flouting this, really, because they're cooking the food all the way through and it just happens to be hot when the customers come in for the food.
"Whereas if we sell a hot pie we have to charge VAT. That is not a level playing field.
"I don't think our customers realise that they're paying 20% on hot food takeaways.
"If you net down a £5 fish and chips meal, we actually get £4 of that. We could pass that on to our customers.
"In the current climate that would be fantastic."