Metal theft hit Bromsgrove church to use fibre glass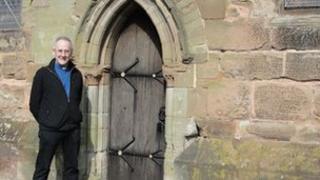 The roof of a north Worcestershire church that has repeatedly fallen victim to metal thefts is to be replaced with fibre glass.
St John the Baptist church in Bromsgrove has been targeted seven times since May.
Rev Chris Wingfield said: "It's a sad act, it's forced us to take a measure we would not have normally taken."
West Mercia Police said six men were arrested on Monday in connection with the metal thefts from the church.
Mr Wingfield said: "We've just been plagued - we've got anti-climb paint and motion sensors but unfortunately I think the thieves can bypass this in any way shape or form."
Cheaper alternative
He said it would take up to £500,000 to replace the lead on the Grade I listed building.
"We just can't afford that sort of money so we're using a different material, not everybody likes it but we've got the permission to do it," said Mr Wingfield.
He said using fibreglass would cost less than £100,000.
"It looks like lead, it's got longevity and it will save this church for generations to come," he said.
It is hoped the work will be completed by Christmas, depending on how soon the money can be raised.