Worcestershire flood campaigner has complacency concern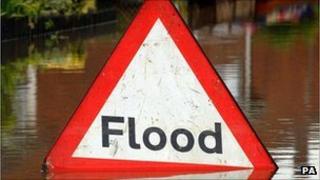 A Worcestershire flood campaigner has urged caution following a Defra report that suggests England and Wales are better prepared for floods.
Thousands of people from the emergency services, councils and utility firms tested flood defences and responses as part of Exercise Watermark in March.
Judy Gibson, from Uckinghall Flood Action Group, said people had to be careful "not to be complacent".
An Environment Agency (EA) spokesman said there was still a need to do more.
Social media
The report made 36 recommendations for better flood responses, 11 of which were to be given priority.
They included better communication with the Cabinet Office during large scale flooding, using social media to get flood messages out quickly and using technology better between local authorities and government departments.
The EA has calculated that flooding in parts of England in the summer of 2007 cost the economy £3.2bn.
Ms Gibson was one of those affected and spent about two years in a caravan after the River Severn burst its banks and flooded her home in Uckinghall.
She admits her village is now better prepared thanks to a £1m alleviation scheme that has reduced the risk of flooding but is still concerned for others.
"The government has actually cut flood spending. There's about five-million homes that are likely to flood and an incredible number of people aren't signed up to a flood warning service which is unbelievable," she said.
'Get prepared'
"There will still be a lot of places in Herefordshire and Worcestershire where there won't be a flood defence because it's not feasible.
"People really need to look at their houses and get prepared."
Anthony Perry, flood risk manager for EA, said a joint Met Office and EA flood forecasting centre was giving them "early information".
"The partners come together before the forecast of this and have put a lot of... plans in place."
Defences in Droitwich which are triggered automatically by rising water levels were among those tested as part of Exercise Watermark.