Upton-upon-Severn flood defence work uncovers skeletons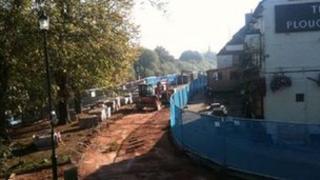 A number of skeletons have been found during work constructing flood defences in a Worcestershire town.
Archaeologists working in Upon-upon-Severn, with the Environment Agency, said the burials appear to date from the 18th and 19th centuries.
The skeletons will be examined and then reburied in consecrated ground.
Archaeologist Ed Wilson said: "We have a duty to future generations to record any remains that we expose during our work."
Work on the flood defences was delayed for three days while the remains were removed in accordance with a Ministry of Justice licence.
Old quay
A burial ground is known to have existed in this part of the town in the Victorian period.
When the existing road bridge was built in the 1940s, a number of burials were found close to the current remains.
Mr Wilson said: "By examining the burials we may be able to tell the population of Upton something about their local ancestors and how the town grew over the centuries."
Archaeological work will take place throughout the construction of the new flood defence wall.
It is hoped evidence of an old quay on the waterside and of an early stone bridge, will be found.
The stone bridge was replaced in the 19th century by a now demolished swing bridge.
At the end of the project, the results are expected to be presented to the public.