Worcester River Severn rescue follows training exercise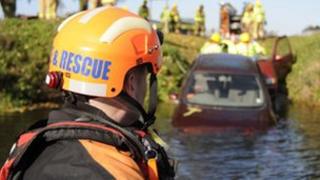 A man has been rescued from the River Severn in Worcester just hours after fire crews had taken part in a training exercise.
Hereford and Worcester Fire and Rescue Service was called to the incident at about 21:00 GMT on Sunday after reports of a man in the river at South Quay.
The man in his early 20s was treated by paramedics at the scene and taken by ambulance to Worcester Royal Hospital.
Crews had earlier been taking part in training exercise on the River Avon.
Station Commander Gary Jay said: "Incidents of this nature highlight just how invaluable our training is.
"Sunday's exercise in Evesham simulated a flood situation in which cars had entered the river, requiring a rapid response and co-ordinated approach.
"The exercise went well and and can only help us when we are called to future water-based incidents."
West Midlands Ambulance Service said two rapid response vehicles and a land ambulance were also called to the incident.