Graham Dilley: Memorial service in Worcestershire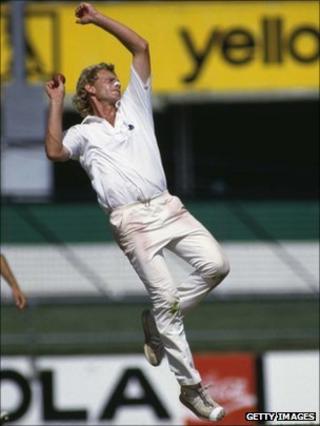 A memorial service has taken place in Worcestershire to remember former England cricketer Graham Dilley.
Fellow cricketers Sir Ian Botham, Mike Gatting and Andrew Flintoff were at Worcester Cathedral for the service.
The former Worcestershire and Kent fast bowler, who was 52, died last month.
Speaking at the service, fellow Kent and England cricketer Chris Tavare described Dilley as "a fine cricketer and a good friend."
Dilley, who had cancer, played 41 Test matches and 36 one-day internationals and helped England complete a memorable win in the third Ashes Test in 1981.
Assistant coach
Dilley took 138 Test wickets, but his biggest impact came with the bat in the famous battle with Australia at Headingley 30 years ago.
His contribution of 56 to a 117-run partnership with Ian Botham helped England to an improbable 18-run victory after the home side had looked almost certain to lose.
Dilley, a two-time Ashes series winner in 1981 and 1986-87, had spells as England assistant coach and England women's bowling coach before becoming head cricket coach at Loughborough University.
He had helped Worcestershire to win the County Championship twice in his six years at New Road.
The Reverend Mike Vockins, who was Worcestershire secretary when Dilley played for the club, is conducting the thanksgiving service.
He said: "I was secretary of the county cricket club from 1971 to 2001 and that was in the period when Graham came to us.
"Such was the excitement about Worcestershire's cricket our membership went from about 4,500 to 7,000 almost overnight when we signed Ian Botham and Graham Dilley almost at the same time."