Burghill B-24 bomber crew honoured with new memorial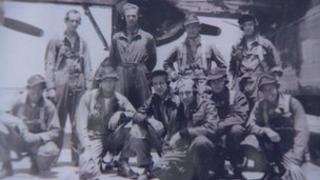 A memorial is being unveiled in a Herefordshire village for crew of an American bomber who died there in WWII.
The B-24 Liberator bomber crashed at Burghill while it was on a training exercise in 1944, killing 10 people.
Eleven American relatives of the crew will be at the Remembrance Day service at St Mary's church, Burghill, on Sunday, when the memorial is dedicated.
The bronze plaque describes the crash and lists the name, rank and age of the men who died.
It is in the churchyard next to existing war memorial.
Typing error
Amateur historian Neil Taylor, who has researched the crash, said: "One chap is the brother of one of the crew and he's nearly 90, and he's making his last trip across the sea to be where his brother died."
Mr Taylor said a typing error meant many relatives did not know where the crash had happened.
"All the relatives were told that their loved ones had been killed when their plane crashed at Berryhill instead of Burghill," he said.
"It's only since we contacted them that they've known where they were when they died."
Local farmer's son John Downes was 16 years old when he saw the aftermath of the crash.
He said: "Bits and pieces were around. I remember one thing, one of the engines had come adrift and landed a couple of hundred yards away."