Mordiford and Fownhope get community defibrillators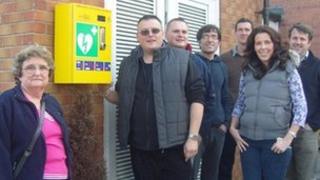 Friends and family of a Herefordshire woman who died suddenly have bought life-saving equipment for two villages.
More than £2,300 was raised to buy two defibrillators, for Mordiford and Fownhope, after mother-of-two Suzanne Stinton Heeley, 42, died in February.
Her husband Vince said 19 people had been trained to use the kit, kept at Mordiford Primary School and a village shop in Fownhope.
The ambulance service is running free training courses in the two villages.
Mr Stinton Heele hopes the kit will benefit rural areas like Herefordshire.
He said: "Just the nature of the terrain means it can take a little bit longer to get to places.
"Someone with the local knowledge and training can shave those minutes off by getting quick access while there's a paramedic on the way."
Fitting tribute
He said the defibrillators were a fitting tribute to his wife's memory. "It's all about giving people a chance and that's what we're trying to do," he said.
"I've been overwhelmed with the generosity of people, friends, family and organisations."
Anne Jolly, the founder of Sudden Arrhythmic Death Syndrome UK (SADS), said: "Putting defibrillators in the community will undoubtedly save lives.
"When a person suffers cardiac arrest, speedy defibrillation gives the person the best chance of survival."