BT apologises after Worcestershire woman's manhole fall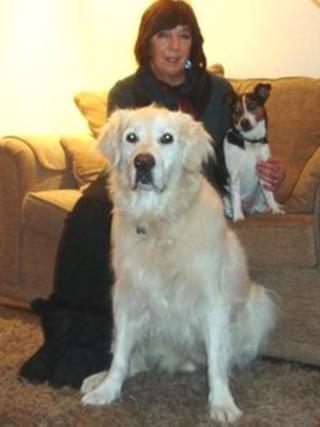 A Worcestershire woman has said she is lucky to be alive after falling 12ft (3.7m) down an uncovered manhole.
Chris Long, from Sedgeberrow, was walking her dogs when she fell into the hole which contained deep water.
She said: "I really felt I was going to die, I was extremely lucky to get out of it."
A BT spokesperson apologised and said they were investigating why the cover had been removed, but they suspected it may have been "disturbed deliberately".
The spokesperson said: "We are sorry to hear of Mrs Long's experience, the safety of the public is of BT's utmost priority."
Mrs Long said she had been walking her two dogs at 18:00 GMT on 10 November when she fell down the hole and her golden retriever Sam landed on top of her.
She said: "Instincts for survival kicked in and I noticed an iron rung at the side of the wall - thankfully my feet knocked onto another rung underwater and I managed somehow to clamber out."
A passing car stopped and a couple got out to help rescue the dog Sam and tried to replace the manhole cover which had been lying at the side of the hole.
She was then taken to A&E before being reunited with her family.
Possible vandalism
Mrs Long said: "I had a massive lump on the back of my head and multiple bruising all over my body, miraculously, nothing was broken and even more miraculously, I was still alive.
"Someone was responsible for leaving the manhole cover off - I think it must have been there for a little while and it was concrete not iron like a lot that have been stolen.
"I'm anxious to bring more attention to the incident now so that maybe more stringent safety measures are applied with respect to manholes and this incident isn't repeated - the next person may not be so lucky."
Mrs Long said she reported the incident to Worcestershire County Council and later found out the manhole was BT's responsibility.
Jon Fraser, from Worcestershire County Council, said: "Whilst the reasons why the BT manhole was left open are unknown, we have suffered many instances of vandalism and theft of manhole covers in recent times.
"We do of course inspect all of Worcestershire's roads regularly and would encourage anyone that notices any defects, particularly dangerous ones, to contact us immediately so that we can take appropriate action."