Hartlebury Castle campaigners lose funding bid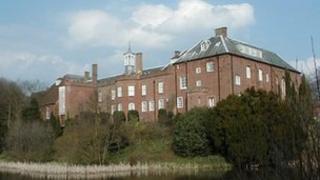 Campaigners in Worcestershire have failed to secure £478,000 of funding to save Hartlebury Castle.
The Hartlebury Castle Preservation Trust (HCPT) applied to the Heritage Lottery Fund (HLF) for support to prevent the building being sold.
It is home to the county's museum and was the official residence of the Bishop of Worcester until 2007.
Alison Brimelow is the HCPT chair: "We are very disappointed and it has been a setback to years of concerted effort."
Campaigners were given a deadline of April 2012 to raise £2.2m to buy the property from the Church Commissioners or it would be put on the open market.
HLF said the decision not to award the grant was due to a high level of competition for the funds available and a concern about the asking price.
Anne Jenkins is head of the HLF West Midlands: "We recognise the huge heritage importance of Hartlebury Castle and the Hurd Library and the significant role it has played in Worcestershire's history.
"However we simply could not support every [application] we looked at on the day."
Ms Brimelow said: "The trust will now enter further negotiations with the Church Commissioners to come to a mutually acceptable asking price for the property."
She said the trust would hold a meeting on 30 November to explore its options.
It is understood the HLF would reconsider a revised application.