Tolladine church mission project awarded £100,000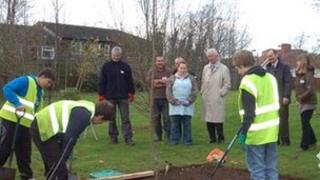 A church project in Worcester has been awarded a grant of £100,000 to help develop activities for young people.
The Tolladine Church Mission project was given the money by the Archbishops' Council and the Church Commissioners of the Church of England.
The money means Rick Tett, the coordinator, will be able to run the scheme full time.
He said: "We're hoping to make the community a better place and help young people deal with everyday issues."
Mr Tett started working on the Tolladine estate in September.
He said: "The money means I'll be able to dedicate more time to getting out and about and really understanding what is needed.
"We've got lots of exciting projects just starting to take shape for teenagers who would otherwise just have street corners and planning additional initiatives."
Mr Tett also said students from Bishop Perowne school have been working with members of the parish to build a community garden.
Teacher Lyn Johnson said: "All of the children come back with nothing but praise for everything they do and the people that they work with - they get a real sense of achievement.
"You can see already that this will make a difference to them."