Work starts to repair historic abbey ruins in Redditch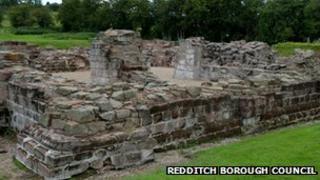 Restoration work has started on the ruins of a historic abbey in Worcestershire.
Bordesley Abbey in Redditch has a history that dates back to the 12th century when it was founded as Cistercian monastery.
The project will involve repairing stonework in the nave and the steps used by the monks when they came down to pray during the night.
Government agency Natural England has invested £150,000 in the work.
'Extremely important'
Gillian Crawley, site manager at Forge Mill Needle Museum and Bordesley Abbey Visitor Centre, said repairs were needed because of the effects of the weather and wear and tear from people stepping on the stonework.
"Once stones start dropping out, others very quickly become loose behind them," Ms Crawley explained.
"The funding is extremely important because in consolidating the ruins, we will ensure that the damage doesn't get any worse."
The project will also see work carried out on a nearby 200-year-old hawthorn hedgerow to encourage new growth.
Councillor Derek Taylor, portfolio holder for leisure on Redditch Borough Council, said: "The funding from Natural England will help the Council carry out this vital work, which will not only improve the experiences of visitors to our important heritage site but will mean that it can be enjoyed by generations to come."