Salmon trapped by low water level in River Teme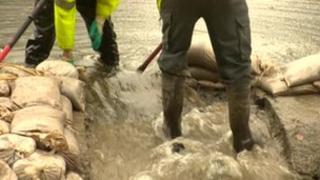 Temporary modifications are being made to two weirs to enable Atlantic salmon get upstream to spawn after they became trapped due to low water levels.
The fish need to work their way 31 miles (50km) north of Ludlow to spawn but are struggling to leap upstream in the River Teme.
Some weigh up to 30lbs (14kg) and may have travelled from Greenland with some females carrying up to 10,000 eggs, the Environment Agency said.
The agency is modifying the two weirs.
The fish are also under 24-hour surveillance to prevent illegal fishing, the agency said.
'Huge crisis'
In August, about 800 salmon, brown trout and grayling in the river at Lentwardine had to be moved up and downstream on two occasions after water fell to dangerous levels.
Chris Bainger, of the Environment Agency, said: "If they don't get upstream of here, they won't lay their eggs and if they can't lay their eggs that's the future progeny of this river gone.
"If they don't do that, they will lose their eggs here and they will die.
"There's not enough spawning in these bits of the river for them."
The Teme Weirs Trust is backing the work being done to the two weirs.
Spokesman Alan Poulton said: "It's a huge crisis for the future of the salmon in the river and it really needed to be seen to straight away and we've done everything we can to help the Environment Agency with the alteration to the weirs which of course is listed."