Worcester City Council to freeze council tax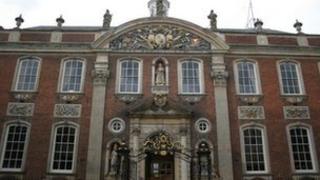 A Worcestershire council is promising to "protect services" despite freezing council tax for a second year.
Worcester City Council said it would make further support service and back office savings to balance its books.
The Conservative-controlled council already plans to make cuts of £1.8m during 2011-12.
Council Leader Simon Geraghty said: "We know that both residents and businesses are under pressure in the current economic climate."
The council has cut the number of senior managers and shared services with other local authorities to make savings in its current budget.
Planned investment
It is also promising to spend money helping businesses and the unemployed in areas highlighted in a public consultation over the summer.
Mr Geraghty said: "We're increasing the money available for our economic prosperity priorities from £50,000 this year to £250,000."
Funding for the Visit Worcester tourism service, due to end in 2011, would be extended for another six months under the plan.
The council also proposes to invest £100,000 in play areas across the city, £15,000 on new litter and dog waste bins and £11,000 on a mobile CCTV camera.
The proposed budget for 2012-13 will go to the cabinet meeting on 6 December and will be finally set at a full council meeting in February.