Jovie Wyse, who has a rare breathing disorder, returns home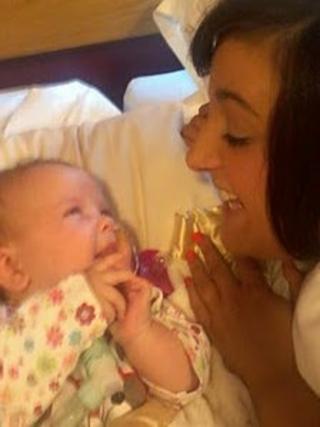 A seven-month-old baby who stops breathing every time she falls asleep has been brought to her home in Worcestershire for the first time.
Jovie Wyse has a rare disorder of the central nervous system where the brain fails to send out the message telling her to breathe when she falls asleep.
She has been cared for at Birmingham Children's Hospital since birth.
Her father Chris Wyse said: "Just having her home in her own little room is fantastic for us."
Jovie, who was born five weeks prematurely, was given a tracheotomy to allow her to breath using a ventilator.
That will be in use during the night at her home.
Her parents had been staying at a charity house attached to the hospital.
Normal life
A doctor at Birmingham Children's Hospital had seen a case of congenital central hypoventilation syndrome (CCHS) before and decided to do tests to see if that was what was wrong with Jovie.
Mr Wyse said: "In a strange sort of a way it was actually a relief to find out what was wrong with her and at the same time it was a realisation of what we have to deal with going forward."
The family have had special training on how to cope with any emergencies that could happen at home.
Jovie is now able to breathe without a ventilator for three one-hour periods each day.
Mr Wyse said he looks forward to her making more progress: "Hopefully, touch wood, it will be the case that one day while she's awake she'll be absolutely fine, and will lead as normal a life as possible.
"At night she might need a face mask or something similar to keep her ventilated."