Upton upon Severn project wins Heritage Lottery funding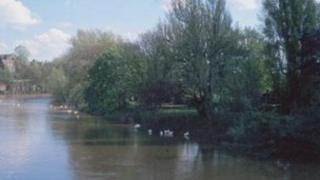 A project that hopes to discover more about a Worcestshire town's history has received funding.
The Upton Town Partnership has received £10,000 from the Heritage Lottery Fund for Unknown Upton, which is run by volunteers.
The project focuses on areas of the history of Upton-upon-Severn which are widely unknown.
It will focus on the medieval history, the cholera outbreak of 1832 and the burial grounds on the edge of town.
Simon Wilkinson, the project's organiser, said: "We are thrilled to have received the support of the Heritage Lottery Fund and are confident the project will add considerably to knowledge about the town and interest in its heritage."
The project will also look at the importance of the town's alleyways and courtyards, links with agriculture and the river trade in the 18th and 19th Centuries.
The partnership's volunteers will work with local historians and a local graphic designer to research and produce leaflets and posts to indicate places of interest.
Anne Jenkins, Head of Heritage Lottery Fund West Midlands, said: "This project will enable volunteers from the community to enhance the information resources available for visitors to this beautiful riverside town.
"Local residents and school children will also discover much more about its particular place in history, especially during medieval times."
The Upton Town Partnership brings together voluntary, statutory and religious groups, residents and local traders from the the town and surrounding areas.