Thieves steal 73 more drain covers in Redditch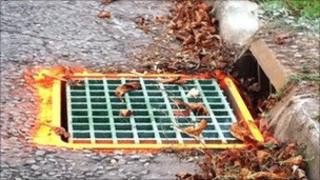 Scrap metal thieves have stolen about £4,000 worth of drain covers from roads in Redditch in the past three weeks.
West Mercia Police said 42 were taken in the Worcestershire town last Thursday and Friday following 31 reported thefts on 24 and 25 November.
Police are working with the county council amid concerns over the safety of road users.
A spokesman said: "It is only a matter of time before a pedestrian or cyclist is seriously injured."
The first batch of recent thefts were in the Arthur Street, Costers Lane, Broad Ground Road, Stonepits Lane, and Walkwood Road areas of Redditch.
They were followed last week in the Woodrow Drive, Greenlands Drive and Woodrow North Terrace area.
'High-visibility jackets'
In October it was reported that 500 drain covers had been illegally removed from roads in the town and the villages of Offenham and Harvington since April, costing the county council £100,000.
West Mercia Police's crime reduction adviser for Worcestershire, Mr Peter Aston, added: "The cost of replacing drain covers obviously has to come out of the public purse and so it is in the interests of all of us to be vigilant.
"Officers are proactive in stopping and checking vehicles carrying scrap, and in visiting scrap yards, but residents, night shift workers and dog walkers can all help by watching out for people acting suspiciously at night or early in a morning.
"Offenders will probably be using a van and may be trying to pass themselves off as road workers by wearing high-visibility jackets.
"However legitimate vehicles will be marked with Worcestershire Highways livery, and genuine workers will always be happy to reassure members of the public about what they are doing."