RSPCA appeal after cats found dumped in pet carrier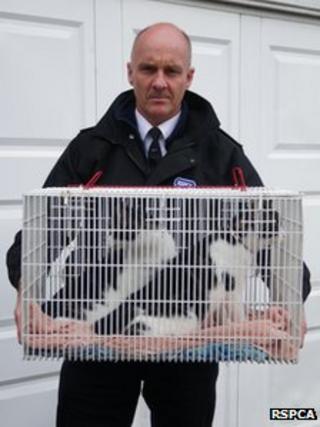 A group of four cats has been found dumped in a pet carrier in woodland in Worcestershire.
The animals were discovered on Tuesday on the edge of a footpath in woodland off Pine Tree Close, Redditch.
An RSPCA spokeswoman said a member of the public heard a noise and upon investigating found the cats.
Two black kittens, which have since been rehomed, were dumped along with two young tabby and white cats, thought to be no more than a year old.
She said all were in good condition and are used to being handled.
The young adult cats are now being cared for by the RSPCA Worcester and Mid Worcestershire branch, bringing the total number of unwanted cats in branch care to 50.
RSPCA inspector Adrian Langley, who is investigating what happened, said: "The cats have been well looked after. One of the tabby and white cats was wearing a gold collar.
"I think they are all siblings so it could be that they are a result of unwanted litters."
He added he would encourage all pet owners to get their cats neutered to avoid unwanted kittens.