Dean of Worcester's Christmas message on carol singing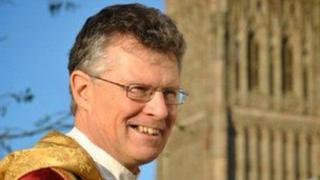 Many of our Christmas customs are not very old.
Take carol singing; singing carols in the streets is old, but singing them in church is not.
In 1805, the parishioners of Sheffield took their vicar to court before the Archbishop of York for introducing hymn singing in church and even publishing a hymnbook.
The Archbishop spent fifteen years reaching a verdict, but in the end he decided that singing hymns in church was all right.
He had good reason to ponder his decision; one of the contributors to the Sheffield hymn book was a young methodist called James Montgomery.
He edited a radical newspaper in Sheffield, and campaigned for education for the working classes.
He opposed the slave trade, and the sending of boys up chimneys, and he wrote sympathetically of the storming of the Bastille and the liberation of its political prisoners, for which, not surprisingly, he was sent to prison himself.
He was all for liberty, equality and fraternity and among the hymns he wrote is one we still sing:
He comes with succour speedy
To those who suffer wrong;
To help the poor and needy,
And bid the weak be strong;
To give them songs for sighing,
Their darkness turn to light,
Whose souls, condemned and dying,
Were precious in his sight.
That was dangerous stuff for the time - actually, it's dangerous stuff still.
There are many parts of the world today where you might think twice before singing that about God.
Peace and justice
Another of James Montgomery's hymns is the Christmas hymn, Angels From the Realms of Glory.
Angels, shepherds, sages, and saints are all summoned to "worship Christ the new-born King".
Heaven and earth, rich and poor, powerful and powerless, are all called to kneel before him.
All the ways in which we divide up human beings and put them into different categories fade into insignificance in the presence of God.
So this week when I am engaged in the rather new-fangled activity of singing Christmas carols in church, I shall remember that young Sheffield newspaper editor, political radical and Methodist, and thank him for reminding me that at the heart of Christmas there is a message, not just of peace, but of justice too.
Peter Atkinson.
Dean of Worcester.