Starlite Rooms at Hereford United reopen on Boxing Day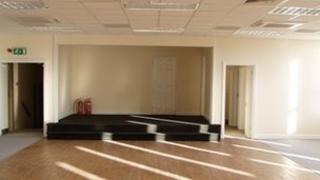 The social club at Hereford United Football Club, burned out in an arson attack almost 20 years ago, will reopen for the club's Boxing Day game.
The Starlite Rooms had been a burned out shell since the fire in 1995.
The club's new owners decided to rebuild it using local contractors who are also fans.
Chairman David Keyte said: "It sits nicely with the whole brief that we are trying to follow of taking the club back to the community."
The £300,000 rebuild has taken six months.
A new entrance from the social club into the ground means fans will be able to take their seats in the stand direct from the bar.
The Starlite Rooms' original layout of a downstairs bar and an upstairs function room has been retained.
Mr Keyte hopes that a successful social club will have knock-on effects for the club.
"Because of the financial regulations we are surrounded with now, if we can improve our income we can improve our player budget," he said.
The club also wanted the social club to be open in time for the 40th anniversary of their giant-killing FA Cup win over Newcastle United on 5 February 1972.