Andrew Heath 'alive as fire started', say neighbours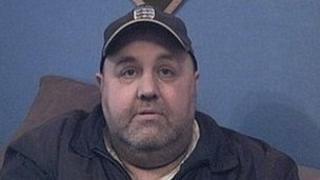 The neighbour of a man killed in a suspicious fire at his flat says he believes he was alive when it started.
Two men have been arrested and bailed in connection with the fire at Andrew Heath's flat in Warndon in Worcestershire on 14 December.
Neighbour Clive Dayus said he heard a bang upstairs from his flat and tried to help him, but the fire was too severe.
Police said they needed to "piece together the details of what happened".
Officers are treating it as a murder inquiry.
Mr Dayus, who has known Mr Heath for nine years, said he was a good friend and had no idea about what happened to him.
'Shouted for response'
"Nothing seemed different that night," he said.
"He seemed happy and was telling us what he was buying for Christmas.
"In the early hours of the morning, there was a bang on the roof by the front window which he normally used to do if he wanted to talk to us - if there was any sort of emergency."
He said there was smoke in his flat and he went outside and could see a glow from Mr Heath's front door.
Mr Dayus said his wife called the emergency services while he tried to get into Mr Heath's flat to help him. But the front door was ablaze.
"I shouted to see if I could get a response but I didn't see nothing whatsoever," he added.
"Within four or five minutes, flames started coming through the windows... the windows shattered and I knew then that was probably it, there was nothing else I could do."
Det Ch Insp Gary Watson, from West Mercia Police said: "We need more help from the public to piece together the details about what happened that evening and details about his life.
"This is an incident where Andrew Heath has tragically lost his life.
"It was an incident that has badly affected other people and could have led to a greater loss of life."
He has said the fire was started outside the premises.