Teme Bridge closure: Fire service contingency plans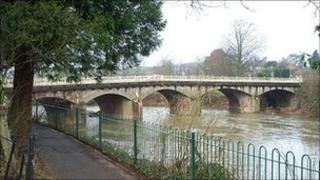 The fire service have made special plans to cope with emergency calls while a bridge across the River Teme in Worcestershire is refurbished.
The Teme Bridge in Tenbury Wells will be closed for 10 weeks from 9 January.
Hereford and Worcester Fire and Rescue Service said the closure to traffic would have a "significant impact".
While the bridge is closed they plan to station the two appliances based at Tenbury Wells on either side of the river.
One appliance will stay at the town's fire station with the second based at the council depot in Bromyard Road.
Station Commander Chris Churchill said: "We will be monitoring the situation closely as the refurbishment work progresses and will make changes to the contingency plans as needed."
Teme Bridge is a designated historic monument and parts of it date back to medieval times.
In 1908 there was a major refurbishment and widening of the bridge but Worcestershire County Council said the structure had since deteriorated.
The next nearest bridges across the River Teme are at Little Hereford, three miles upstream and at Stanford Bridge, nine miles downstream.