Victoria footbridge in Hereford closed by flood water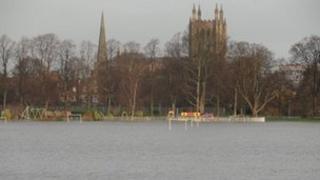 Flood water has closed riverside footpaths and a footbridge across the River Wye in Hereford.
The Environment Agency has issued flood warnings for the River Wye from Hay to Hereford. It said the river was 5.25m (17ft) above its normal level overnight.
The King George V playing fields in the city centre were flooded and the Victoria footbridge shut.
Major roads through the city have not been affected by the flooding.