Worcester City Football Club stadium plans approved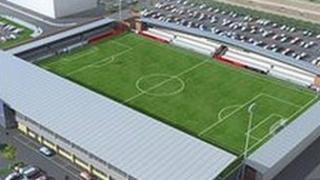 Plans to build a new stadium for Worcester City Football Club have been approved by the city council.
The decision on the 3,000-seat Nunnery Way site, near junction 7 of the M5, was made at a meeting on Thursday.
The development, which will include a hotel, restaurant and offices, will lead to the creation of up to 1,000 jobs on the site, it is claimed.
Director of the club Anthony Hampson said: "I'm delighted, it's a major step forward for the survival of the club."
The club has sold its current St George's Lane ground for housing development and needs to move by July 2013.
Mr Hampson said it was "very difficult to say" whether the stadium would be completed in time.
"These things don't happen overnight, plans will be phased in over time - the club will not want to run before it can walk."
'Lot of support'
Councillors voted six in favour and five against the application, which was first submitted in 2008.
The project includes 700 parking spaces, office buildings, a hotel, restaurant and car and motorcycle showroom, along with room to expand the capacity of the stadium.
During a public consultation the council received 15 letters objecting to the scheme and 43 in support.
Mr Hampson added: "We were near bankruptcy at one stage but we've managed to swing the situation round and make the club break even and invest in the playing squad as well.
"We've got a lot of support in the city for the club that we didn't have before."