Vigil held for Bewdley murder victim Betty Yates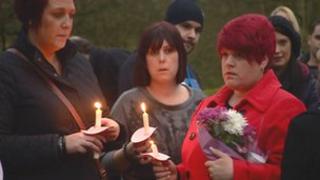 Friends and former pupils of a retired schoolteacher found stabbed to death have held a candlelit vigil.
Betty Yates, a 77-year-old widow who lived alone, was found murdered on 4 January at her riverside home near Bewdley, Worcestershire.
Police found her body after a friend became concerned for her welfare.
A police spokesman confirmed earlier they were investigating a comment posted on Facebook describing the attack as a burglary gone wrong.
The posting on a page set up in her memory was later removed.
Insp Andy Smith said the posting was being considered as part of the investigation.
He said no arrests had yet been made in connection with the murder.
More than 60 mourners paid their respects by laying flowers and lighting candles on the bridge near the house on Sunday afternoon.
Hayley Williams, 38, who was taught by Mrs Yates in the mid-1980s at Kidderminster's St John Middle School, said she had been an "amazing" teacher.
She said: "She taught everybody whether they were in her class or not.
"She just had this unique way of teaching and for whatever reason it worked."
'Always smiling'
Mrs Yates, a keen swimmer who was also a member of local walking and book clubs, taught in the Wyre Forest area before her retirement and had lived at the cottage for more than 30 years.
She had lived at the house alone for the past seven years following the death of her husband.
Fellow members of the Bewdley Civic Society were among those who turned out to remember the former teacher at Sunday's vigil.
Pat Brown, a friend of Mrs Yates who she said often went swimming with her at a local hotel, described her as "brilliant, always happy, always smiling and always helpful".
She added: "I did a little job for her before Christmas and she sent me a beautiful bunch of flowers to say 'thank you'.
"I hadn't seen her since the day before Christmas Eve - when she was going off to her daughter's. She always wanted to help and you couldn't ask for a better person."
On Saturday, Mrs Yates's son and daughter issued a statement through West Mercia Police to pay tribute to her.
They spoke of their shock and sadness at her murder.
Appealing for people to assist the murder hunt, her son David and daughter Hazel said: "We do not understand why or how anybody could have done this and we would urge anyone who has any idea about who is responsible, or has any information at all, to come forward and tell the police.
"Our mother was a vivacious, independent and popular person. She had a lovely character and was extremely caring."
Forensic teams are still conducting inquiries at the house, named Riverscroft, which lies at the end of a track running along the western bank of the River Severn.