320 Asda supermarket trolleys stolen in Bromsgrove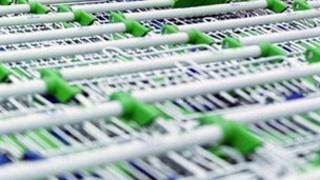 More than 300 shopping trolleys have been stolen from a supermarket in Worcestershire.
The theft of the 320 trolleys has been reported to police by staff at the Asda store in Bromsgrove.
The trolleys are worth £100 each meaning the supermarket has been left with a £32,000 bill.
It is thought the trolleys were taken by thieves for their value as scrap metal after being abandoned on nearby streets by shoppers.
A West Mercia Police spokesman said the supermarket took a delivery of 500 new trolleys in November 2010, but discovered shortly before Christmas that only 120 were left. It is thought some may have been lost or abandoned but police said they were confident 320 had been stolen.
'Looks unsightly'
Officers believe they have been loaded into a white panel van in streets in the Sidemoor area, including Rowan Close, to the rear of the Asda store on a number of different occasions.
PC Matt Hunt said: "Shopping trolleys are obviously valuable to metal thieves.
"Unfortunately, trolley thefts affect us all in terms of rising shopping bills and so we are urging people to be vigilant.
"We are also appealing to shoppers to always return trolleys after use. They should not be taken off supermarket car parks, as abandoning them in roads, on footpaths and gardens not only makes it easier for thieves but looks unsightly."
West Mercia Police's Project Livewire was set up to tackle the problem of metal theft across the force area.
Anyone with information about the trolley thefts is asked to contact police or the charity Crimestoppers where details can be passed on anonymously.