Worcestershire county cricket ground development plans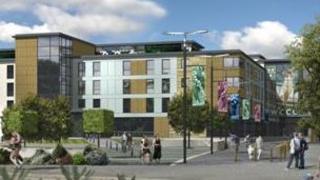 Worcestershire County Cricket ground could be redeveloped as part of a £10m plan which includes a hotel and restaurant.
Whitbread wants to invest £7.5m in a 120-bedroom Premier Inn at the New Road Ground.
The club plans to spend more than £2.5m on new conference and executive facilities.
If planning permission is granted, construction is expected to start in September.
David Leatherdale, chief executive of Worcestershire County Cricket Club, said its "simple business strategy" included making the club's finances "more sustainable in the long term and drive on-field success".
He said the addition of the new hotel and facilities for the club would "transform our ground into a 365-day-a-year venue".
"It will help attract further inward investment into Worcester and produce a complex the city can be proud of," Mr Leatherdale added.