Wigmore art gallery helps Teme Valley Youth Project survive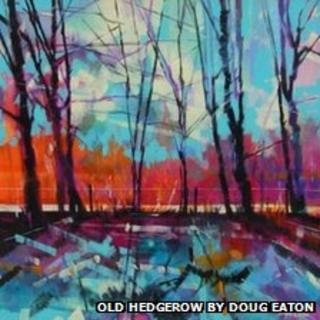 Organisers of a youth project in Herefordshire that was struggling to pay its rent, say they are confident they can keep the project going.
Teme Valley Youth Project hosts activities in Wigmore to help up to 100 disadvantaged young people from Herefordshire and Shropshire.
Fearing it could not pay its rent due to cuts, it sub-let space for artists to exhibit in to help generate income.
The Acre of Art gallery was so popular there was now a waiting list, it said.
A spokesman for the youth group said work from up to 40 artists were being exhibited at the gallery in Wigmore, Leominster, which had received more than 1,000 visitors since it opened in September.
'Youth ethos'
Rental income from the artists and commission from the gallery and shop sales are used to pay for the running costs of the building and to provide funding for specialist staff to support the Teme Valley Youth Project (TVYP) work.
TVYP hosts disadvantaged young people from 24 parishes across Herefordshire and Shropshire in Wigmore several times per week and involves them in community projects to prevent anti-social behaviour.
About 100 young people aged 11 to 25 are involved in the scheme with their work benefiting an estimated 1,000 people in the wider community, TVYP said.
TVYP chairman John Stenning said: "Youth services face many challenges, with funding obviously high on the agenda. The need to diversify has become increasingly apparent with the rising costs of running the building itself.
"We looked at a number of options to make use of the fantastic space within the building and many people suggested that the light lent itself magnificently to the idea of an art gallery. The fact that the gallery fits so well with the ethos of the youth project makes it an ideal solution."