Car maker Morgan announces 'record-breaking' orders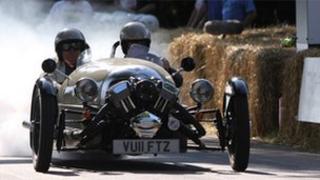 Worcestershire car maker Morgan has said a record-breaking start to 2012 will lead to new jobs in the area.
The Malvern-based company has received 850 early orders for its new three-wheeled model, many from new markets.
The low-volume manufacturer has appointed new dealers in China and India and said it was looking to expand into other countries.
Production of Morgan's three-wheeler is expected to rise from 10 to 15 cars a week from March.
The model was inspired by a classic three-wheel car manufactured by the company from 1909 until 1953. It won the French Grand Prix in 1913.
The company said it was forecasting a 100% in sales year on year.
Morgan said an increase in production was expected to lead to new jobs in the spring.
Overseas markets
The company currently employs 175 staff, mainly in highly skilled production roles.
Steve Morris, production sales director, said: "This year is extremely exciting for us, with the launch of another two models.
"First of all the launch of the Plus 8 at Geneva in March. We've also got the Classic Roadster... which is due to come online at the end of next month."
The company said it was focusing on overseas markets, particularly Brazil and United Arab Emirates, and was expanding its dealership network in the United States.
There are expected to be benefits for other parts of the supply chain with many of Morgan's components sourced directly from the West Midlands.
New figures show UK vehicle production grew by 5.8% last year, ahead of the global market, which increased by 4%.