Evesham art deco Regal Cinema reopens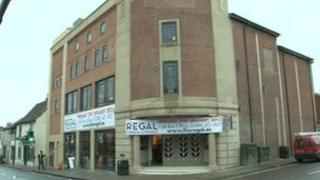 A Worcestershire cinema has opened to the public after undergoing three years of restoration.
The Regal Cinema in Evesham is a Grade II listed building and was once derelict and boarded up.
The building on Port Street will not only show films, but will become a multi-purpose venue for events, such as exhibitions and lectures.
An original cinema clock, saved by locals when the building became disused, has also been donated back.
Project manager Laurence Wiper said: "It's been a long road and it's been a struggle all of the way, and given the economic climate over the past three years, it's made things even more difficult."
Emma Heathcote-James, from the Regal, said: "The Regal has fond memories for so many people around here.
"It always was the heartbeat of Evesham and that's what we're determined to bring back and to get that heartbeat pumping again."