John Anslow escape: Man released on police bail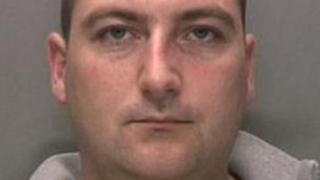 Police investigating the escape of prisoner John Anslow have released a West Midlands man they arrested on Monday night.
Mr Anslow, 31, from Tipton and described as "dangerous", fled when the van he was travelling to court in was ambushed in Worcestershire.
Officers had arrested the 44-year-old man, also from the Tipton area, on suspicion of assisting an offender.
He has since been released on police bail pending further inquiries.
Mr Anslow, who was on his way to court in Stafford, was charged with murder last week.
Staffordshire Police has previously offered a £10,000 reward for information and will examine property obtained after a search of two homes in the Tipton area earlier.
Det Supt Martin Evans said: "We're determined to find John Anslow and we're continuing to follow several lines of inquiry as our investigation continues.
"We're hoping that the offer of this sizeable reward will encourage friends or associates of Anslow - or anyone else who knows where he is - to come forward with information.
"All calls will be treated in the strictest confidence."