Andrew Heath killed by fire started in wheelie bin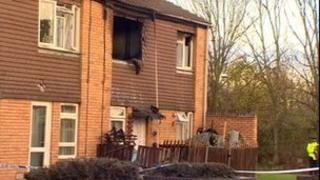 A fire in which a man died when he became trapped in his flat was started in a wheelie bin, police have revealed.
Andrew Heath, 52, was found dead in Chedworth Close, Warndon, Worcester last month.
Detectives have revealed the bin had been pushed into the porch before being set alight.
Mr Heath was known to lend money to people and police are looking into the possibility the fire could have been started by someone who owed him cash.
Det Ch Insp Paul Williamson said: "From the positioning of the bin in his porch, it's clear this has the hallmarks of a personal attack on him.
"Whoever set the fire must have known the devastating consequences their actions would have.
"Someone may have deliberately set out to kill Andrew or it may have been to scare and upset him."
A £10,000 reward has previously been offered by police.
He said: "We know from the 999 call that Andrew knows he's trapped inside the premises and is desperately trying to get help."
'Crucial witnesses'
During BBC One's Crimewatch programme on Thursday, police appealed for information on why a group of people were outside Mr Heath's house before the fire in the early hours on 14 December.
The police want to speak to a man walking a small black dog in the area at about 03:30 GMT and someone on a bike who cycled past not long before the fire was reported. They are described as "crucial witnesses".
Mr Williamson said: "We will persevere until we find out what happened to Andrew."