John Anslow escape: Crimewatch appeal prompts calls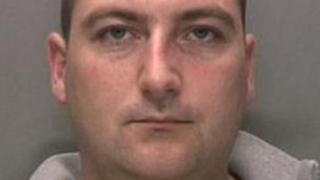 Police say they have had "several calls" from the public after a TV appeal to catch a prisoner who fled from an escort van in Worcestershire.
John Anslow, 31, escaped near HMP Hewell Grange, near Bromsgrove, on his way to Stafford Crown Court on Monday.
Staffordshire Police said they had 60 calls before the Crimewatch appeal shown on Thursday and a number of others during and after the programme.
Police said Mr Anslow, who is charged with murder, is a "dangerous" man.
Mr Anslow, who is from the Tipton area, was charged last week with the murder of Richard Deakin in Chasetown, Staffordshire, in July 2010. Four other men have also been charged with his murder.
The Crimewatch appeal featured photographs of Anslow and the Volkswagen Scirocco used by the offenders who attacked the van from using sledgehammers.
Police said a Facebook appeal had already reached at least two million people.
A 44-year-old man, also from the Tipton area, was arrested on suspicion of assisting an offender earlier this week and later released on bail.
Staffordshire Police are working on the investigation with West Midlands and West Mercia forces.
A £10,000 reward for information has been offered.