Basil D'Oliveira memorial service fills cathedral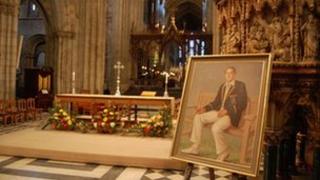 Cricketing legends, celebrities and ordinary fans were all present as more than 1,000 people filled Worcester Cathedral to play tribute to Worcestershire and England cricketer Basil D'Oliveira.
A painting of D'Oliveira, in cricketing whites and a blazer, stood on an easel in front of the pulpit.
His wife Naomi, described as "his rock" during the service, sat alongside their sons and grandsons in the front row.
Norman Gifford, who captained Worcestershire when D'Oliveira was playing, gave one of the eulogies to a man he called "a great mate and a great friend".
He told a story of walking out to bat with D'Oliveira in a Test Match, to face the legendary Australian fast bowler Dennis Lillee.
He said: "When I got to the middle we didn't punch gloves like they do now.
"He (D'Oliveira) just looked at me and said, 'Good luck mate, you'll need it'."
He also drew laughter by remembering D'Oliveira's fondness for enjoying life once play was finished for the day.
"I had some tremendous times with him on the field - I had some 'interesting' times with him off the field," he said.
Pivotal figure
The first address in the service was given by Beresford Williams, the President of the Western Province Cricket Union in South Africa.
He painted a vivid picture of how "one of Cape Town's greatest cricketing sons" refused to be beaten by the "injustices of apartheid".
"Basil was always dignified and did not allow the injustices to hold him back.
"His name is indelibly written in the history of South Africa and world cricket," he said.
Sir Michael Parkinson spoke of the challenges D'Oliveira faced when he came to play in England for the first time.
"He had to learn to behave as a free man - he asked his perplexed team members which door to the pavilion he was allowed to use, which part of the bus he could sit in and which area in the pub he was allowed to drink in.
"For a while he was a lost and unhappy soul, while he tried to adjust to a lifestyle where he was an equal and not treated as a leper.
"He was so unhappy and confused that he nearly returned home, but friends and family and his own remorseless willpower drove him on," he said.
Sir Michael described D'Oliveira as "a pivotal figure in 20th Century politics".
The service ended with a solo trumpeter playing the song Unforgettable, a fitting musical summation of the tributes paid.