Extreme ironing devotee takes on Marathon des Sables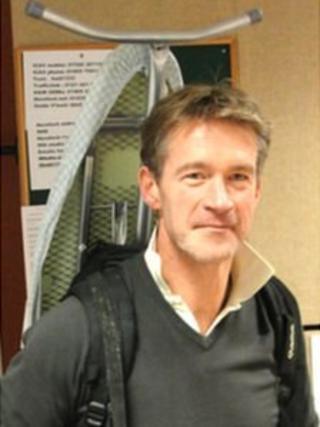 A Worcestershire man is hoping to "steam ahead" in one of the toughest races on the planet.
The Marathon des Sables is a six-day, 151-mile (243km) endurance race across the Sahara desert in Morocco.
Taking place in April, it involves running the equivalent of a marathon a day, sometimes in blistering temperatures of up to 40C (104F).
But Paul Roberts, from Ockeridge, has decided to make the race tougher still - by combining it with his love for extreme ironing.
Extreme ironing (EI) is regarded as a British invention, a quirky mix of extreme sport and what is seen by many as boring housework.
On its website, it is described as "the latest danger sport that combines the thrills of an extreme outdoor activity with the satisfaction of a well-pressed shirt".
Devotees have been known to remove creases from their clothes in locations as diverse as the tops of mountains and under the sea.
'Ultimate challenge'
The alternative iron man contest is thought to have originated in Leicester in 1997.
The story goes that Phil Shaw, christened "Steam" in EI circles, was faced with a mountain of ironing but fancied an evening out rock climbing. A flash of inspiration led to him combining the two activities.
The first world championships were held in Germany in 2002, with a team from Britain walking away with the gold medal.
It has since encouraged a proliferation of other strange sports such as extreme accounting, extreme hairdressing and even extreme sandwiching.
"I've always wanted to do the Marathon des Sables in that it's the ultimate challenge," said Mr Roberts.
"I've done lots of extreme ironing feats, so the thought of putting the two together seemed like the ultimate in silliness."
Best fancy dress
He added: "I entered the World Bog Snorkelling Championship as an extreme ironer and won the best fancy dress in that.
"I've done a 24-hour, non-stop mountain bike race three times with the ironing board and I've cycled Land's End to John O'Groats, again a world first, with it as well.
"I really wanted to do an iron man triathlon with the ironing board as the two seemed to fit in my head perfectly well.
"I tried to swim with the ironing board but it didn't go well at all. After each attempt, it simply turned me upside down into a submarine."
While training for the race, Mr Roberts said that he was only running with the heavy rucksack on his back.
"I keep the ironing board for special occasions," he said.
His efforts are in aid of St Richard's Hospice in Worcestershire.
The hospice provides free specialist palliative care for patients living with cancer and other life-threatening illnesses and supports their families.
But it is not a case of total domestic bliss in the Roberts family household.
"I don't really help out with the ironing at home; because I'm 6ft 1in it actually hurts my back."