London 2012: Olympic challenge for torchbearer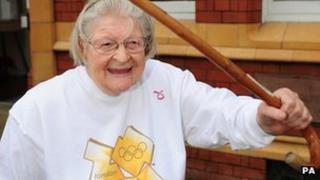 An 84-year-old Olympic torchbearer has said carrying the 2012 flame in July will be a challenge in itself.
Moira Starkey, from Storridge in Herefordshire, was nominated for her 20 years of charity fundraising.
She is aiming to raise £20,012 for a cancer charity while training to walk the 300m section near Birmingham.
Miss Starkey, who walks with two sticks, said Olympic organisers had offered to create a device to allow her to carry the torch on her back.
"A friend said that if we get some good training going I might be able to walk with just one stick, but that might upset my balance."
Over the years both her legs have been fitted with replacement joints, undergoing two operations on one hip, and a further two operations on her other knee.
She will be one of 8,000 people across the country to take part in the relay, which starts at Land's End on 19 May and ends in London at the opening ceremony for the Olympic Games on 27 July.
Miss Starkey was nominated to carry the torch by The Haven cancer charity.
Fundraising efforts
Her association with The Haven started after a close friend spent time recovering from breast cancer in the Hereford centre.
She has raised more than £11,000 for the charity since 2004.
She added: "You've always got to think what the money you've raised is worth, how much benefit it will bring.
"I raised another £20 yesterday. That'll be a packet of gloves or something I suppose."
Her fundraising efforts date back to 1992 and include a wide range of charities, including the Cats Protection League, Worcestershire Wildlife Trust and cancer charities Acorns, St Richard's Hospice, Marie Curie Cancer Care, and St Michael's Hospice.
Over the years Miss Starkey's fundraising events include walking the equivalent of a marathon, completing it over three months at Storridge Village Hall.
She has also sold homemade jams and cards, as well as putting on an annual charity pancake race every year since 1992.
"I remember raising £111 in the first year and being really encouraged by it," she said.
As well as raising money for a good cause, she said her achievements had also kept her active and introduced her to many new people.
"I have no close family, but so many good friends."
She said the target of £20,012 - to mark the Olympic year - seemed a lot of money, but she would take it one step at a time.
Miss Starkey will be hosting her annual pancake race at Storridge Village Hall on 19 February.